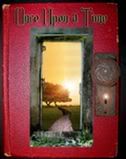 Heir to the Shadows by Anne Bishop
Once Upon a Time II Challenge
Book two of the Black Jewels trilogy.
Spoilers, I guess, if you haven't read the series.
At the end of book 1, Daemon and the High Lord, Saetan, were locked in a vicious battle to save the mind, body and soul of Witch – dream made flesh for the ruling Blood. There has not been Witch for thousands of years, so the coming of Jaenelle should be a joy to all the Blood.
However, after things go so badly wrong at the end of book 1, it takes a lot of time, care and attention to get Jaenelle to the point of being Witch.
There's the Dark Council, striving against her; and her would-be Consort, Daemon is locked in the Twisted Kingdom, in madness.
I started and finished Heir to the Shadows on the same day _ I couldn't put it down for love or money, it was that good and, I think, the best of the trilogy, even though I'm only halfway through Book 3 now.
Anne Bishop has a rare gift for storytelling that draws the reader into the world she creates and makes you feel as though _ if you just took one step sideways _ you too could be in the Shadow Realm.
Also reviewed here:
http://readingadventures.blogspot.com/2006/09/heir-to-shadows-by-anne-bishop.html