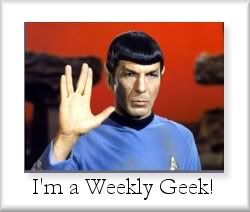 This week, Dewey has challenged us with a modification of last week's Weekly Geek:
1. In your blog, list any books you've read but haven't reviewed yet. If you're all caught up on reviews, maybe you could try this with whatever book(s) you finish this week.
2. Ask your readers to ask you questions about any of the books they want. In your comments, not in their blogs. Most likely, people who will ask you questions will be people who have read one of the books or know something about it because they want to read it.
3. Later, take whichever questions you like from your comments and use them in a post about each book. I'll probably turn mine into a sort of interview-review. Link to each blogger next to that blogger's question(s).
4. Visit other Weekly Geeks and ask them some questions!
Okay. I just uploaded reviews yesterday and I'm not likely to get the book I'm reading finished before the end of this week. So I'm tweaking it slightly: ask me questions on any of these three books that I published reviews of yesterday:
Twilight by Stephenie Meyer
Melusine by Sarah Monette
On, Off by Colleen McCullough
They're in these posts:
http://justaddbooks.blogspot.com/2008/07/challenges.html
http://justaddbooks.blogspot.com/2008/07/orbus-terrarum.html
http://justaddbooks.blogspot.com/2008/07/melusine-by-sarah-monette.html
So. Ask me questions in the comments and at the end of the week I'll compile them into a post; probably on Friday my time (NZ) as my Saturdays seem to be quite busy at the moment. :)
Edited to add:
Since I only have three recent reviews, feel free to rummage in my bookshelves (archives) and ask me questions about any of the other books I've reviewed.
And, as always Weekly Geeks _ live long, and prosper!