I always promise myself I'm not going to do it. And this year I did pretty well. In that I only signed up for a few challenges and ... failed them all, I think. Although I may have accidentally finished
http://www.stainlesssteeldroppings.com/
's RIP challenge without realising it. It's possible.
However, in the past few days, I've found myself lurking here:
http://novelchallenges.blogspot.com/
which is never a good idea, because my brain immediately goes OH MY GOD SHINY GIVE IT TO ME I WANT ITTTTTTTT about pretty much every challenge ... ever.
Which, of course, leads to sign-ups. Somehow, that's inevitable.
I was going to limit myself to five, but then I remembered Once Upon a Time and RIP. And
http://www.inspringitisthedawn.com/
is doing a Murakami challenge at some point. If I stuck to five, that's three slots gone already, and that's just not fair to the challenges! (Yes. This is how my mind works.)
So, without further ado, I have signed up for these:
h
ttp://onetwotheme.blogspot.com/
- I still need to pick my themes, but it appeals to the part of me that wants to learn about everything
ever
.
http://whatsinaname4.blogspot.com/
- It's like a treasure hunt!!! :D
http://feministclassics.wordpress.com/
- Technically speaking, not a challenge, but a kind of reading group. But I had to Sign Things, so therefore it's a challenge.
http://glbt-reading.blogspot.com/2010/11/glbt-challenge-2011.html
- I failed this so hardcore ... last year? Sigh. However, that hasn't stopped me from signing up again...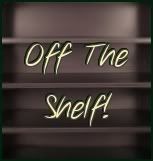 http://bareadingchallenges.blogspot.com/p/off-shelf-challenge.html - I was thinking of doing something along the lines of this anyway. I counted yesterday, and I have 120 books on my TBR bookcase by my bed. I've decided to do level three - "making a dint", which is 30 books, but I'm hoping to read at least 50 (ambitious, for a woman who hasn't even cracked 40 books this year) from those shelves.
Also, March 2011 is NZ Book Month:
http://nzbookmonth.co.nz/
and I'll be hosting a mini-challenge again, like I did last October:
http://justaddbooks.blogspot.com/2009/09/business-time.html
So ... clear your calendars, brush up on your slang, and look up some Kiwis ;)